Joe Gosman Band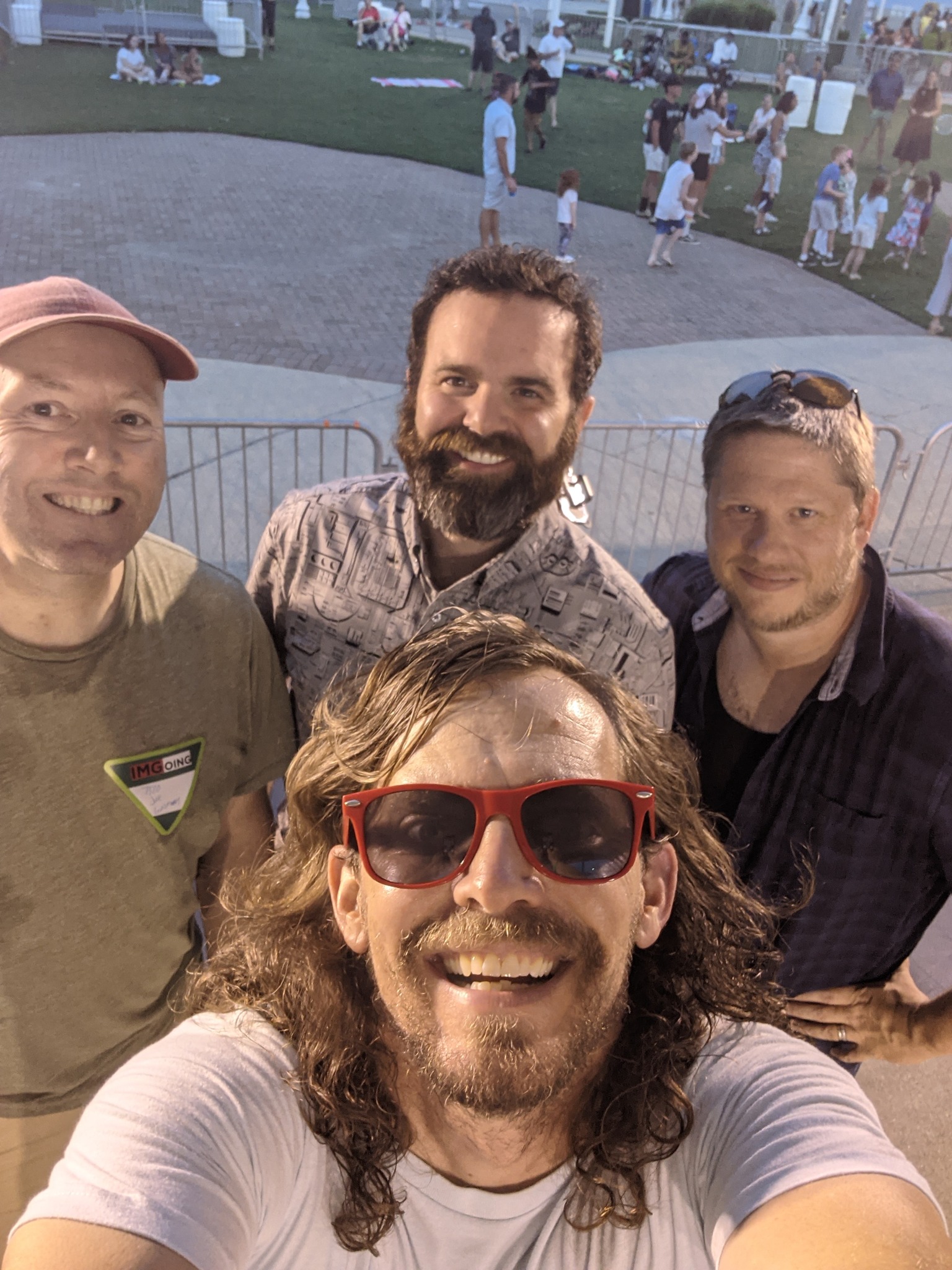 Professional. Always ready to play and have a good time. Being able to perform with multiple different arrangements allows the ability to be flexible with band size depending on the needs of the crowd or client. Organic Rock and Roll. The situation gets analyzed upon arrival and we try to be a catalyst to the vibe that is in the room. Unless it is a bad vibe, then it gets changed to a good vibe.
Upcoming Events
Joe Gosman (Solo) @ Sly Clyde Ciderworks
Friday, December 8, 2023
207 East Mellen Street, Hampton, VA 23633
6:00PM - 9:00PM

Joe Gosman Band @ Tide's Coastal Kitchen (Formerly Tin Cup)
Friday, December 29, 2023
2800 Shore Drive, Virginia Beach, VA 23451
6:00PM - 10:00PM
Doors Open 11:00AM
Dates are subject to change. Please contact venue for more information.
Please send all requests for your favorite band schedules or any questions to info@rockstarbooking.net
Joe Gosman Band Song List
Dead or Alive-Jon Bon Jovi
She Talks to Angels-Black Crowes
Swing Life Away-Rise Against
Time of Your Life-Green Day
Times Like These -Foo Fighters
My Kinda Party-Jason Aldean
Free Fallin'-Tom Petty
Birthday-Beatles
Can't You See-Marshall Tucker Band
Sweet Home Alabama-Lynyrd Skynyrd
What I Got-Sublime
Tequila-The Champs
Mario 3 World 1-1-Nintendo
Tennessee Whiskey-Chris Stapleton
Bad-Michael Jackson
Forget You-Cee Lo Green
Bad Moon Rising-Creedence Clearwater Revival
Faith-George Michael
Happy Together-The Turtles
Jack and Diane-John Mellencamp
Listen to the Music-Doobie Brothers
Lucy in the Sky with Diamonds-Beatles
Midnight Rider-Allman Brothers
I Want It That Way-Backstreet Boys
Mr. Jones-Counting Crows
Glycerine-Bush
Night Moves-Bob Seger
Slide-Goo Goo Dolls
Ring of Fire-Johnny Cash
Empty Walls-Joe Gosman Band
If You Could Only See-Tonic
Glory Days-Bruce Springsteen
Wonderwall-O.A.R.
Far Away-Joe Gosman Band
Pump It Up-Elvis Costello
Lay Me Down-Dirty Heads
Hard to Handle-Black Crowes
I Hope You're Happy-Joe Gosman Band
Save Tonight-Eagle Eye Cherry
Get Back-Beatles
Hey Jealousy-Gin Blossoms
Psychokiller-Talking Heads
Unemployment Line-Joe Gosman Band
Harder to Breathe-Maroon 5
Brown Eyed Girl-Van Morrison
Folsolm Prison Blues-Johnny Cash
Two Weeks-Joe Gosman Band
Laid-James
In Your Eyes-Peter Gabriel
Gold on the Ceiling-Black Keys
Back to the Basics-Joe Gosman Band
Joker-Steve Miller
Louie Louie-Kingsmen
Wild Thing-The Troggs
Steal My Kisses-Ben Harper
Fadeaway-Bodeans
Ball and Chain-Social Distortion
What I Like About You-Romantics
Senorita-Joe Gosman Band
Will It Go Round in Circles-Billy Preston
Money-Beatles
Why Don't We Do It in the Road?-Beatles
Superstition-Stevie Wonder
Pray-Joe Gosman Band
Bad Fish-Sublime
Stuck in the Middle-Steeler's Wheel
Shimmer-Fuel
Parachute-Chris Stapleton
Hey Girl-O.A.R.
Two Princes-Spin Doctors
Joey's Song-Joe Gosman Band
All Along the Watchtower-Jimi Hendrix
Lonely Boy-Black Keys
Heroes-David Bowie
Hey Hey What Can I Do-Led Zeppelin
Message in a Bottle-Police
Cumbersome-Seven Mary Three
Sweet Caroline-Neil Diamond
18 Wheels-Joe Gosman Band
Get Lucky-Daft Punk
Roadhouse Blues-The Doors
Pick Up Man-Joe Diffie
All Day and All of the Night-The Kinks
Green Onions-Booker T. and the MGs
Hotel California -Eagles
4 AM-Joe Gosman Band
Rap-Joe Gosman Band
Simple Man-Lynyrd Skynyrd
Margaritaville-Jimmy Buffett
Keep Your Hands to Yourself-Georgia Satellites
Breakdown-Tom Petty
Take a Walk-Joe Gosman Band
Wonderful Tonight-Eric Clapton
Wagon Wheel-Old Crow Medicine Show
Last Dance with Mary Jane-Tom Petty
Turn the Page-Bob Seger
Drive Home-Joe Gosman Band
All Night Long-Lionel Richie
Lose Yourself to Dance-Daft Punk
Return of the Mack-Mark Morrison
No Diggity-Blackstreet
I'm Yours-Jason Mraz
Clown and the Queen-Joe Gosman Band
Africa-Toto
King of Wishful Thinking-Go West
Only the Good Die Young-Billy Joel
Sunglasses at Night -Corey Hart
(If You're Wondering) I Want You-Weezer
How Far We've Come-Matchbox Twenty
When You Were Young-The Killers
Undert the Bridge-Red Hot Chilli Pepperts
Strawberry Fields Forever-The Beatles
Brandy You're a Fine Girl-Looking Glass
Working Man Blues-Merle Haggard
I shot the Sherriff-Bob Marley
Melissa -The Allman Brothers Band
I can See Clearly Now-Johnny Nash
Pompeii-Bastille
Stacey's Mom-Foutains of Wayne
Breakfast at Tiffanys-Deep Blue Something
hold Me Now-Thompson Twins
Easy-Lionlel Richie
Big Me-Foo Fighters
No Scrubs-TLC
Shouldve Been a Cowboy-Toby Keith
Crazy-Gnarls Barkley
Stand By Me-Ben E King
Three Little Birds-Bob Marley
Somebody Like You-Keith Urban
Let Me Love You-Mario
Higher Love-Steve Winwood
Can't Feel My Face-The Weekend
Signs-Tesla
No Woman No Cry-Bob Marley
Build Me Up Buttercup-The Foundations
When You Were Young-The Killers
Just Like Heaven-The Cure
Sittin on the Dock of the Bay-Otis Redding
Tennesse Whiskey-Chris Stapleton
Eye of the Tiger-Survivor
Against the Wind-Bob Seger
All Night Long-Lionel Richie
Have You Ever Seen the Rain-Creedence Clearwater Revival
Losing My Religion-R.E.M.
IF you were wondering if I want you too. -Weezer
Basket Case-Green Day
Take it Easy-Eagles
Shake it off-Taylor Swift
Abracadabra-Steve Miller Band
Take Me Home Country Roads-John Denver
I Want It That Way-Backstreet Boys
Country Girls Shake it for me-Luke Bryan
Hit me baby One More time-Brittney Spears
White House Road-Tyler Childers
Plush-Stone Temple Pilots
867-5309-Tommy Tutone
I wanna dance with Somebody-Whitney Houston
My Perogative-Bobby Brown
Just a Friend-Biz Markie
Bad-Michael Jackson
Old Town Road-Lil Nas X
Ain't No Sunshine -Bill Withers
Gangstas Paradise-Coolio
Just the Way you are-Bruno Mars
This is How We do it-Montell Jordan
Fresh Prince of Bell Air-Will Smith
Ho Hey-The Lumineers
Santeria-Sublime
Bright Lights-Matchbox Twenty
Come Together-The Beatles
Don't You Forget About Me-Simple Minds
Let Her Cry-Hootie & The Blow Fish
Hey Jude-The Beatles
Wanted Dead or Alive-Bon Jovi
Fortunate Son-Creedence Clearwater Revival
I'll Still be Loving You-Restless Heart
Iris-Goo Goo Dolls
1985-Bowling For Soup
I melt with you-Modern English
Piano Man-Billy Joel
You can Have the Crown-Sturgill Simpson
Smells Like Teen Spirit-Nirvana
She Talks To Angles-The Black Crowes
Hard To Handle -The Black Crowes
Swing Life Away-Rise Against
Good Riddance-Green Day
Times Like These-Foo Fighters
My Kind of Party-Jason Aldean
Free Fallin -Tom Petty
Grey Street-Dave Matthews Band
Crash Into Me-Dave Matthews Band
When you were young -The Killers
Heros -David Bowie
Can't You See-The Marshall Tucker Band
Remember When-Alan Jackson
Fishin in the Dark-Nitty Gritty Dirt Band
Big Me-Foo Fighters
Always on My Mind-Willie Nelson
Runaway Train-Soul Asylum
The Story-Brandi Carlile
Monster Mash-Misfits
Werewolves of London-Warren Zevon
Ghostbusters-Ray Parker Jr.
Superstition-Stevie Wonder
All Summer Long -Kid Rock
Jingle Bells-Christmas
Joy to the World-Christmas
The Chanukah Song-Adam Sandler
Rudolph The Red Nosed Reindeer-Christmas
Last Christmas! -Wham
We Wish You a merry Christmas-Christmas
Deck The Halls -Christmas
Feliz Navidad-Jose' Feliciano
Santa Claus is Coming to Town-Christmas
Midnight Rider-The Allman Brothers Band
Creep -Radiohead
Nothings Gonna Stop us Now-Starship
Song 2-Blur
Blink 182 -Dammit
Say it Ain't So-Weezer
I'll Make Love to You-Boyz ii Men
Tearing up My heart -NSYNC
Rocket Man-Elton John
Vasoline-Stone Temple Pilots
A Country Boy Can Survive-Hank Williams Jr.
Can't Help Falling in Love -Elvis Presley
Yesterday-Beatles
Your Love-The Outfield
Purple Rain-Prince
Were Going to be Friends-The White Stripes
Santeria-Sublime
We Will Rock You-Queen
Come Monday-Jimmy Buffett
Life Ain't Fair and The World is Mean-Sturgill Simpson
You are-Lionel Richie
Feeling alright-Joe Cocker
Take it Easy-Eagles
Hotel California-Eagles
Island in the Sun-Weezer
Amber-311
One-U2
Ain't No Rest for the Wicker-Cage the Elephant
Drift Away-Dobie Gray
Stop Draggin My Heart Around-Stevie Nicks
I'm the Only One -Melissa Ethredge
Mammas Don't Let your Babies Grow up to Be Cowboys-Waylon Jennings
Rolling in the Deep-Adele
Seven Nation Army-The White Stripes
A sky full of Stars -Coldplay
Before He cheats-Carrie Underwood
Blister In the Sun-Violent Femmes
Wagon Wheel-Old Crow Medicine Show
Jack and Diane-John Mellencamp
How Far We've Come -Matchbox Twenty
Learning to Fly -Tom Petty
Sitting on the Dock of the Bay-Otis Redding
Mr. Jones-Counting Crowes
Glycerine-Bush
Tennessee Whiskey-Chris Stapleton
Old Town Road-Lil Nas X
Happy Together-The Turtles
I'm Your's -Jason Mraz
Cheesburger in Paradise -Jimmy Buffett
High Hopes -Panic! At the Disco
Lucy in the Sky with Diamonds-The Beatles
The Devil Went Down To Georgia-The Charlie Daniels Band
Sunglasses at Night-Corey Hart
Heart of Gold-Neil Young
Come Together-The Beatles
Dangerous-Big Data
T R O U B L E -Travis Tritt
The Weight-The Band
Workin Man Blues-Merle Haggard
Zombie -The Cranberries
Friends in Low Places-Garth Brooks
Give a Little Bit-Supertramp
Sex on Fire-Kings of Leon
Lay Down Sally-Eric Clapton
Somebody Like You -Keith Urban
I'll Still Be loving You-Restless Heart
Knockin on Heavens Door-Bob Dylan
Oh Pretty Woman-Roy Orbison
Chicken Fried -Zach Brown Band
Rock and Roll-Led Zepplin
I want you to want me -Cheap Trick
I want to hold your hand-The Beatles
Crazy Game of Poker-O.A.R.
Whole Lotta Love-Led Zepplin
Kryptonite-3 Doors Down
All Star-Smash Mouth
Let Her Cry-Hootie and The Blow Fish
Stranglehold-Ted Nugent
No Rain-Blind Melon
In the Air Tonight-Phil Collins
Walk-Foo Fighters
Danny's Song-Loggins and Messina
Wish You Were Here-Pink Floyd
Family Tradition-Hank Williams Jr.
Rockstar -Nickelback
Pony -Ginuwine
This is How we Do it-Montell Jordan
Feathered Indians-Tyler Childers
Umbrella -Rihanna
Escape the Pina Colada Song-Rupert Holmes
Beer Never Broke My Heart-Luck Combs
Proud Mary-Creedance Cleerwater Revial
Closing Time-Semisonic
You never even Called my by my name-David Allen Coe
The Fox-Vlvis
I ran -A flock of Seagulls
Outside -Staind
Good Golly Miss Molly-Little Richard
Rooster-Alice in Chains
Jeremy-Pearl Jam

If you are interested in booking this artist, contact Rock Star Booking at info@rockstarbooking.net or call us at 833-762-5757.