Schooner or Later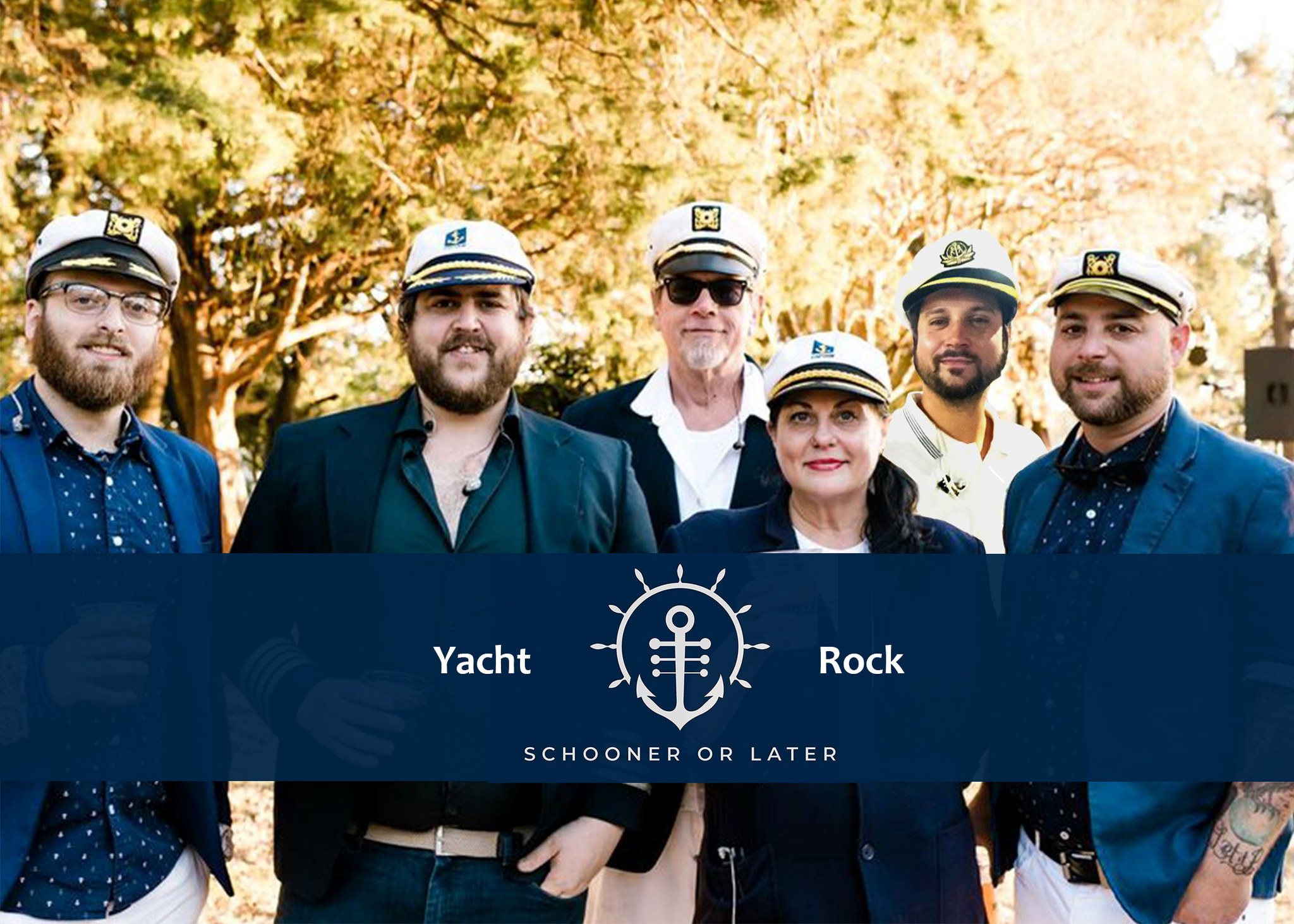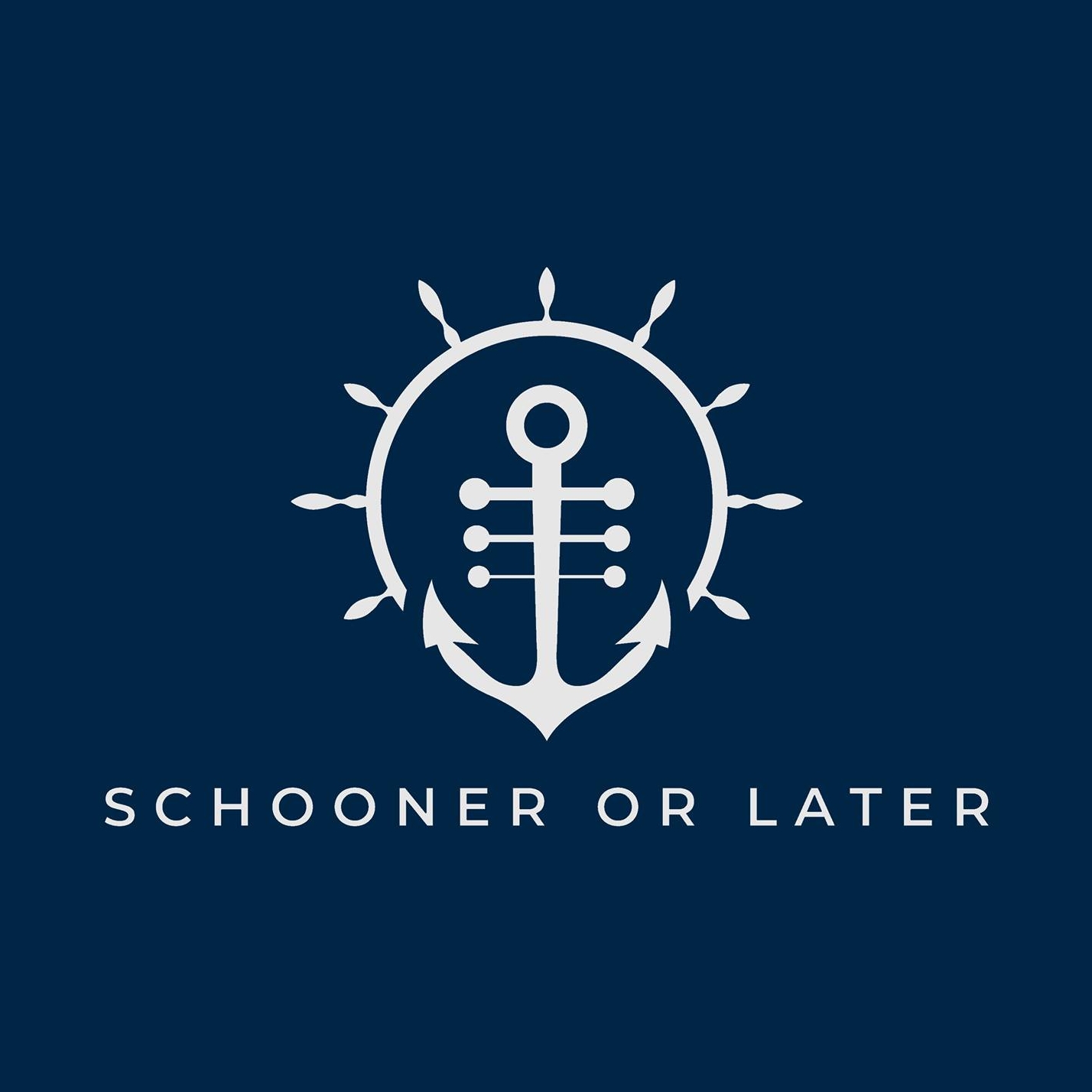 Featuring all the smooth sounds from the AM gold era of the 70's and 80's, Schooner or Later presents a tribute to the grooviest genre of all time: Yacht Rock. Featuring the styles of Hall and Oates, Christopher Cross, Michael McDonald and more, let Schooner or Later take you on a cruise to the best sounds of the decades, with some surprises along the way Featuring a seasoned crew who have played for presidents, toured the US and Europe, and who have attained the status of local legends, Schooner or Later knows how to keep the party going, so don your captains hats and aviators, and prepare for a night of the sounds you love.
Schooner or Later Song List
Yacht Rock Classics

Africa- Toto

All Night Long- Lionel Richie

American Girl- Tom Petty

Baby Come Back- Player

Baker Street- Gerry Rafferty

Billy Jean- Micheal Jackson

Blame it on the Boogie- Jackson 5

Brandi- Looking Glass

Brown Eyed Girl- Van Morrison

Call Me Al- Paul Simon

Conga- Gloria Estefan

Dance With Somebody- Whitney Houston

Dancing In The Moonlight- Van Morrison

Danger Zone- Kenny Loggins

December 1963- Frankie Vallie

Don't Stop Believing- Journey

Doctor My Eyes- Jackson Brown

Escape- Rupert Holmes

Girls Just Wanna Have Fun- C. Lauper

Go Your Own Way- Fleetwood Mac

Heart of Rock n Roll- Huey Lewis

Higher Love- Steve Winwood

Hold the Line- Toto

Hot Stuff- Donna Summer

How Long- Ace

I Can't Go for That- Hall and Oates

Into the Mystic- Van Morrison

Jessie's Girl- Rick Springfield

Jive Talkin- Bee Gees

Kiss on My List- Hall and Oates

Kiss you all over- Exile

Listen to the Music- Doobie Brothers

Lido Shuffle- Boz Scaggs

Love Will Keep Us Together- Capn n Tenille

Magic- Pilot

Mustang Sally

One Thing Leads to Another- The Fixx

Peg- Steely Dan

Play That Funky Music- Wild Cherry

Power of Love- Huey Lewis

Proud Mary- Tina Turner

Rebel Yell- Billy Idol

Reelin in the Years- Steely Dan

Reminiscing- Little River Band

Respect- Aretha Franklin

Rich Girl- Hall and Oates

Ride Like the Wind- Christopher Cross

Rikki Don't Loose That Number- Steely Dan

Sailing- Christopher Cross

Simply Irresistible- Robert Palmer

Smooth Operator- Sade

Somebody's Baby- Jackson Browne

Still the One- Orleans

Summer Breeze- Seales and Croft

Summer of 69- Bryan Adams

Take it Easy- The Eagles

Take Me Home- Eddie Money

Two Tickets to Paradise- Eddie Money

Valerie

Waiting for a Girl Like You- Foreigner

You Make My Dreams- Hall and Oates

Modern Staples

500 Miles- Proclaimers

Bad At Love- Halsey

Body Like a Backroad- Sam Hunt

Buddy Holly- Weezer

Closer- Chain Smokers

Cold Water- Justin Bieber

Chicken Fried- Zac Brown

Cupid Shuffle- Cupid

Exes and Ohs- Elle King

Feel It Still- Portugal

Get Lucky- Daft Punk

Hand in Pocket- Alanis Morisette

Hey Ya- Outkast

Hello- Adele

Hit Me Baby One More Time- Britney

Ignition- R. Kelly

Island in the Sun- Weezer

Locked Out of Heaven- Bruno Mars

Mamas Broken Heart- Miranda Lambert

No Diggity- Blackstreet

No Scrubs- TLC

Nothing Holding Me Back- Sam Mendes

New Rules- Dua Lupa

Party in the USA- Miley Cyrus

Pony- Ginuwine

Santeria- Sublime

Semi Charmed- Third Eye Blind

Shut Up n Dance- Walk the Moon

Shake it Off- Taylor Swift

Small Things- Blink 182

Stitches- Shawn Mendes

Torn- Natalie Imbruglia

Thinking Out Loud- Ed Sheeran

Thousand Miles- Venessa Carlton

Three AM- Matchbox Twenty

Til the World Ends- Britney Spears

Uptown Funk- Bruno Mars

Wagon Wheel- Old Crow

Wannabe- Spice Girls

What I Got- Sublime

What I Like About You- Romantics

What's Up- 4 Non Blondes

What About Us- Pink

Zombie- The Cranberries

If you are interested in booking this artist, contact Rock Star Booking at info@rockstarbooking.net or call us at 833-762-5757.